Front loader for Kubota B1402DT Japanese compact tractors, Komondor PHR-B1402DT
Front loader for Kubota B1402DT Japanese compact tractors, Komondor PHR-B1402DT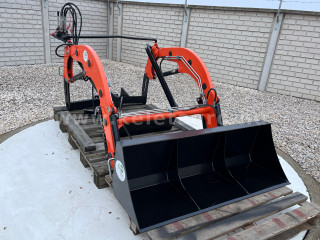 3.249

EUR

(2.558 EUR + VAT)
Status:
Front loader attachment for Kubota B1402DT type Japanese compact tractors. Installations may requires some minor modifications.

The price includes all of the items can be seen on the pictures, the hydraulic distributor, pipes, brackets, and the bucket as well. As option, other design buckets, bale fork, pallet fork also available. We produce the front loader upon order, production takes 5-6 weeks, that starts with 50% prepayment.

We also offer installation (for good technical condition tractors only) at our yard for additional fee. The necessary parts and labour cost is 250 Euro + VAT.

The indicated price does not include home delivery, but we can help to get proper transport offers. For transport offer we need full delivery address including postal code. Transport dimensions: 190 x 130 x 110cm, its weight is 280kg with bucket. Width of bucket is 130 cm. Packed as you can see on the pictures.
Buy at the Webshop