Flail mower 125cm, with reinforced gearbox, for Japanese compact tractors, EFGC125, SPECIAL OFFER
Flail mower 125cm, with reinforced gearbox, for Japanese compact tractors, EFGC125, SPECIAL OFFER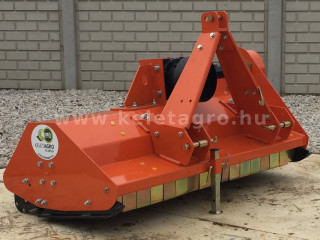 1.315

EUR

(1.035 EUR + VAT)
Status:
Best price and best quality!

Horizontal centerline mower-mulcher machine with swinging mashing hammers.

Its working width is 125cm, its whole width is 135cm. There is a V-belt connection between the drive and the rotor. This connection warrants the safety stoppage with slide-slip in the case of interfering with some hitch.. For its use 540 rev/min. PTO drive is needed.

The minimal performance need is 18HP. Its weight is 230kg. The fixed drive system is attached free running its driving is easy it can be solved with a standard PTO axle.

Transport cost to Austria, Croatia, Germany, France, Slovakia is 100 Euro + VAT.
Buy at the Webshop